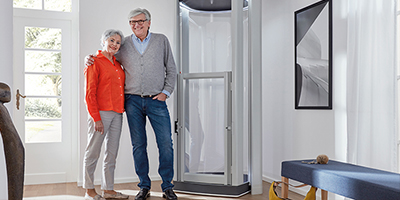 Let's talk about the basic knowledge of a wheelchair lift first. These are the many reasons that people often pick a Wheelchair Lift over a simple Stair Lift, or a larger residential elevator project for their residence.


5 Features of Wheelchair Lifts


Can Rise up 14 Feet
Can accommodate multiple stops
Small footprint
Can be used indoor or outdoor (depending on the model)
Weight capacity of 750 lbs, and can travel 30 feet per minute
Choose from the 5 Best Wheelchair Lifts for Your Home 

After doing research, and talking to customers that use these wheelchair lifts, below are the best wheelchair lifts on the market for your home.
1. Symmetry Elevating Solutions Residential Vertical Platform Lift (VPL- RL)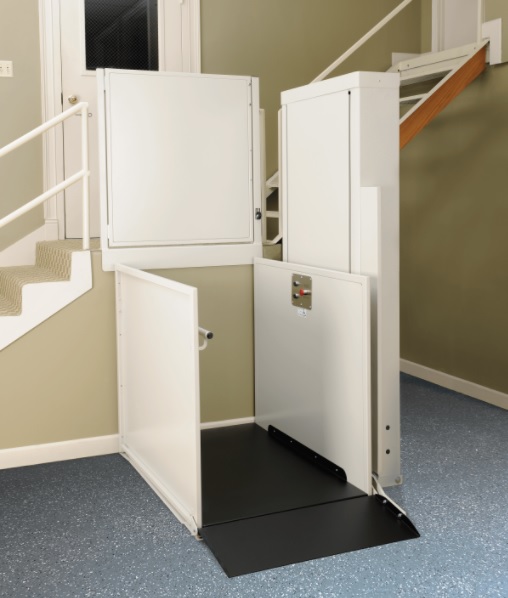 Why does it stand above the rest?
Wheelchair Lift Customizations Available
There is no need for the Wheelchair Lift to NOT fit in with your home and style. Symmetry Elevating Solutions understands this and have an array of options for you to choose from.
You can customize your wheelchair lift with color choices! This unit comes in white, gray, black, and a full selection of RAL colors.
You can also choose to add on emergency lifts, a key switch to lock the lift when not in use, a full speed battery backup system, or a flip up ramp!
Fixture Options for this Wheelchair Lift
All Residential Lifts come with the main station and call station in a standard brushed stainless steel. They also come equipped with an ADA compliant handsfree phone. The Handrails can be made to match the interior color that you select for your lift.
You can even add Smoked or Clear Acrylic, or Laminated Safety Glass inserts for a more sophisticated look in your home.
Gate & Door Options for this Wheelchair Lift
The Door and Gate options include platform and landing gates. These can be Non Fire rated or a fire rated material. We can also add in a Power Door operator, and a power gate operator for your convenience at home.
The Symmetry Elevating Solutions Wheelchair Lifts have an industry leading warranty of 4 years!
2. Stiltz Home Lift Trio Alta Wheelchair Model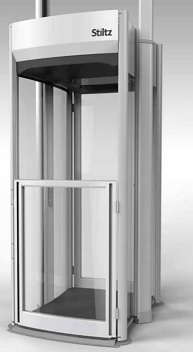 What Stands above the Rest for these models?
Stiltz Home Lifts work in most existing homes, and do not require a large footprint, or a Pit. These units are quiet, have a fast installation time, and use standard electrical outlets. The compact drive system is also installed on the top of the unit to keep it out of sight of your guests.
These LOOK like a home elevator, but are only a Home Lift that operates on with a roped drum, and on a unique dual rail system.
Standard features for this wheelchair lift
Stiltz units come in a standard Grey color, have internal LED downlights, and a battery back up system on every unit. Phones are also fit standard in these units to make sure you feel safe in the case of an emergency.
They also come with top and bottom obstruction monitors to ensure that nothing will be harmed accidentally during the units' travel.
Options for this wheelchair lift
These wheelchair lifts can be adorned with an interior grab rail, a Full height door, or an in car seat. These options add safety and increased security to the unit.


Warranty for this wheelchair lift
Stiltz home lifts come with a standard 24 month part warranty.
3. Garaventa Genesis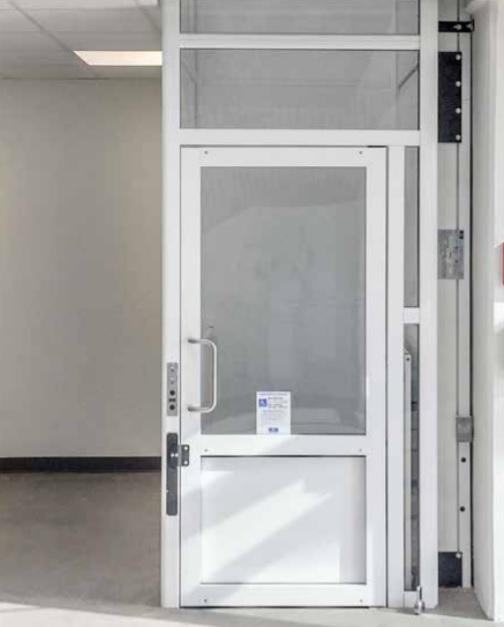 The Garaventa Line of Wheelchair Lifts can be driven by a screw drive or a hydraulic drive. These wheelchair lift units come at a low cost in comparison to a full home elevator. This wheelchair lift can also be installed indoor or outdoor, and come with a variety of options to blend and complement the building it is being installed in.
Standard Features for this wheelchair lift
Garaventa wheelchair lift units come with a 750 pound weight capacity and can travel from 12 to 14 feet. Garaventa units are equipped with interlocks and internal closers for safety measures. They are also equipped with keyless controls, and operate off of a 120 VAS single phase electrical outlet.
Warranty for this wheelchair lift
Garaventa Lifts come with a standard 2 year manufacturers warranty, and can be extended to 5 or 7 years with additional payment.
Syracuse Elevator Company Can Help You Choose the Right Wheelchair Lift for Your Needs. We Can Also Install Your Wheelchair Lift!


Syracuse Elevator Company has been a leader in the installation of Residential Lifts in the Syracuse, Albany, Binghamton, and Finger Lakes regions of New York State for over 20 years. Our factory trained sales team, mechanics, and installers will be able to help you navigate the world of home accessibility with ease. Reach out to us today for help with your home!

Don't Miss Important Information