Business Elevators
Commercial elevators offer a comprehensive solution to improve your commercial facility's accessibility. Syracuse Elevator commercial elevators are ADA compliant. All mobility impaired and/or physically disabled individuals receive adequate accommodation with our commercial elevators. Our commercial elevators are strong and durable, capable of holding up to 1400 lbs.
Another fantastic feature of Syracuse Elevator commercial elevators is that they're fully automatic, allowing for easy accessibility literally at the push of a button. This user-friendly design is very beneficial for mobility impaired individuals. Commercial elevators have a customizable, pleasant design, complementing its phenomenal functionality with a tasteful appearance.
---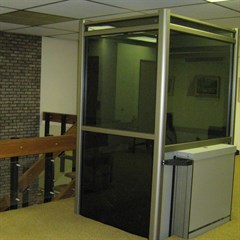 The Right Fit
Syracuse Elevator commercial elevators work just as well as larger business elevators, but are intended for low rise or low occupancy establishments. Syracuse Elevator commercial elevators rely on only the safest, most durable technology, ensuring that your commercial property is equipped with the utmost accessibility for many years after installation.
---
Dependable Safety Technology
Our commercial elevators also include great safety features.
Syracuse Elevator standard safety features include:
Emergency backup power system
Emergency manual lowering valve
Safety brake system
Car operator with integral gate switch
Automatic bi-directional floor levelling
Emergency alarm button in car
Emergency keyed stop switch in car
Overspeed valve
Final limit switch
---
Our Commercial Elevator Products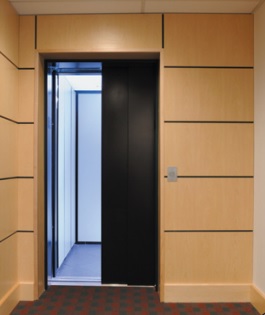 Syracuse Elevator offers two different commercial elevator products. One is the Elvoron LU/LA, and the other is the Elvoron CPL Model. The Elvoron LU/LA has a very similar look and feel compared to a regular sized business elevator. The Elvoron LU/LA includes premium accessibility accompanied with several customizable aesthetics to properly match your business property's building design and décor. The Elvoron CPL Model is a vertical platform lift that's smaller than an elevator. In addition to its small size, the Elvoron CPL Model has a smaller price tag, too.
---
Choosing a Commercial Elevator
If desired, Syracuse Elevator can assist you in choosing which commercial elevator product best suits your commercial property's needs. We will treat you with the highest standard of professionalism and friendliness, with careful consideration of your unique needs. We will consider your budget, functional needs, property layout, and local code enforcement rules and regulations.
Contact us today to get a free, no obligation quote to fulfill your commercial elevator needs.   
---
Brochures
Want a Lift? Fill out the form below