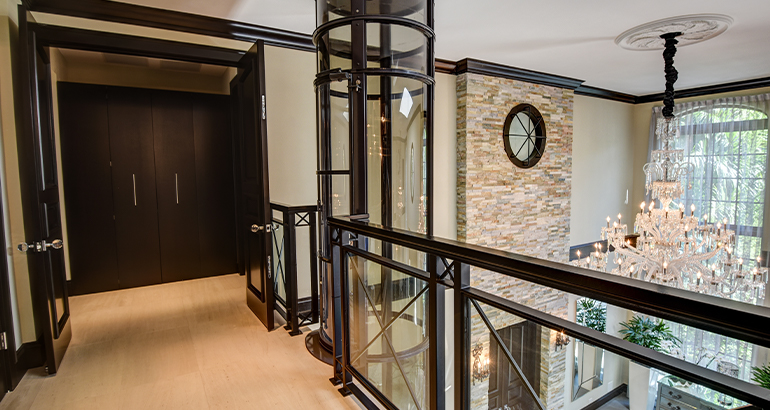 06/04/2013 – ON LINE STAIR LIFTS???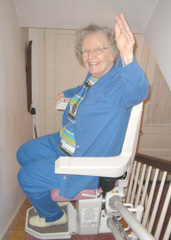 Shopping online is a wonderful modern convenience. It makes our lives easier, but it's important to research the available options. Whether you are purchasing furniture, booking a trip or browsing stairway chair lifts, you must do your homework to avoid being deceived. The appearance of saving money up-front often leads to spending more in the end.

There are now many companies that sell stairway chair lifts and other accessibility equipment direct to customers, through Craigslist, eBay, or their own website. A skilled amateur might be able to install a chair lift on a straight stairway. However, there are more difficult applications, such as curved or outdoor stairways. Also, the lower price of purchasing the equipment direct comes with the risk of issues with shipping, equipment, installation and service. The cheap initial price masks the risks of these problems that increase the total cost for the customer.

The biggest problem we have seen is that folks try to save money and buy a lift online only to find out it won't fit on the stair or doesn't meet the need for which it was purchased. These customers have little or no support from the company who sold them the chair lift. The manufacturer who built the equipment can try to help, but without a local authorized representative, they can only give advice over the phone and send out parts. 

When self-installed chair lifts need complex repairs that the owner cannot make, he or she has to find a full-service accessibility contractor nearby. The distributor in the area may not support that equipment or have parts on hand. The cost for the service work could be significant, up to and including starting all over again with a new lift installed by the local accessibility contractor.

The Accessibility Equipment Manufacturer's Association (AEMA), cautions customers against purchasing accessibility lifts online. Their main concerns are for the safety of the installer and the user, and the conformance to safety standards and codes. Their position can be read here.

There are important safety standards governing manufacture and installation of stairway chair lifts: ASME A18.1 and NFPA 70 and ASME A17.5/CSA B44.1. Trained distributors are familiar with these standards and are trained and authorized by the manufacturers they represent to install and maintain the equipment. They carry parts in stock and have fully equipped vehicles to handle any installation challenge. Trained and licensed technicians can work fast and get the stairway chair lift up and running in a matter of hours because they do this every day. 

Quality accessibility contractors also are experienced with many manufacturers. They can advise customers to choose high quality equipment from a manufacturer with a great track record and long history of production who therefore offers the best value and the best features. It is worth it to spend the money up-front and hire a trained, certified and experienced accessibility contractor nearby to sell, install, and service the stairway chair lift. The local dealer will also back up the manufacturer's warranty. Customers can relax knowing that experienced professionals will guide them through the process of purchasing and installing the lift, and they will provide expert support when the lift needs service.
02/05/2013 – YOUR OUTDOOR LIFT
The upstate NY winter is a beautiful thing that many folks in the country envy us for. While the driving can be tenuous, the beauty is outstanding. Along with the beauty of the snow comes some care for your lifts in the cold weather.

Here are some tips to help the life of your outdoor lift equipment.

Try not to leave your vertical Lifts parked all the way to the ground level when not in use. They can freeze to the ground and damage your belts or lifting nuts.
If it is not used for extended periods of time, consider covering them with Blue tarps. Be sure to have the units greased prior to the start of the winter season and have the Lead screw cleaned down so any extra grease does not get hard and sticky!!!

Have the bearings lubricated and all the leaves from the fall cleaned out of the mast.

Snow birds should remove the batteries to a warm place and put them on a trickle charger until you return in the spring. 

Call us with any maintenance concerns.
10/29/2012 – HURRICANE SANDY
Hurricane Sandy!!!
Tips for your lifts and or elevator:

STAIR CHAIRS: Most of the units out there are Battery operated, they will run with power out to the house, but the batteries will not charge with any power to them. If you lose power your chair will probably start beeping at you. This lets you know that your Chair is not charging. If this gets annoying the disconnect switch behind the mot
or body can be turned off. Simply flip it on when you want to use your chair. A curved stair chair, the button is in the front of the unit typically just below the seat in the middle of motor body:

Call if you have questions or concerns. If your house is in a flood zone and you fear water may reach your chair, run the unit to top landing, switch off the disconnect switch (see above) unplug the unit.

Elevators and lifts: If you have a hydraulic elevator or lift and power is lost the elevator/ lift can drift into the pit and trip the slack rope safety. This will necessitate a service call. Please run your lift or elevator to the top floor so any drifting will take much longer to go into slack. If you are in a flood prone area, and you feel your equipment will get wet:

1. run the unit to the top landing.
2. Close the shut off valve at the pump,
3. Throw the main disconnect to off and also switch off the building breaker to that circuit.
4. Also close the disconnect on 110v supply along with its building breaker.

Please call us any time with any questions 1-800-827-5036.
Have your model name handy.
10/23/2012 – POLLING PLACE LAW
NYS requires that polling place be accessible, they should comply with the ADA. Here is the exact law... call your polling place ahead of time if you are not sure if there are barriers to your entrance and your VOTE!! Your vote counts don't let the stairs get in your way!!

1. Every board of elections shall, in consultation with each city, town and
village, designate the polling places in each election district in which
the meetings for the registration of voters and for any election may be
held. The board of trustees of each village in which general and special
village elections conducted by the board of elections are held at a time
other than the time of a general election shall submit such a list of
polling places for such village elections to the board of elections. A
polling place may be located in a building owned by a religious
organization or used by it as a place of worship. If such a building is
designated as a polling place, it shall not be required to be open for
voter registration on any Saturday if this is contrary to the religious
beliefs of the religious organization. In such a situation, the board of
elections shall designate an alternate location to be used for voter
registration. Such polling places must be designated by May first, of
each year, and shall be effective for one year thereafter. Such a list
required to be submitted by a village board of trustees must be
submitted at least four months before each general village election and
shall be effective until four months before the subsequent general
village election. No place in which a business licensed to sell
alcoholic beverages for on premises consumption is conducted on any day
of local registration or of voting shall be so designated. If, within
the discretion of the board of elections a particular polling place so
designated is subsequently found to be unsuitable or unsafe or should
circumstances arise that make a designated polling place unsuitable or
unsafe, then the board of elections is empowered to select an
alternative meeting place. In the city of New York, the board of
elections shall designate such polling places and alternate registration
places if the polling place cannot be used for voter registration on
Saturdays.
1-a. Each polling place shall have at least one entrance that provides
access, by ramp or otherwise, to physically disabled voters, provided,
however, that this requirement may be waived in writing by the county
board of elections upon a petition to the board by the legislative body
of the city or town designating such polling places showing good and
sufficient cause. In the city of New York and in counties in which
polling places are designated by the board of elections, the board shall
specify in writing why it has determined that it is unable to comply
with the provisions of this subdivision. Such petition, waiver, and
written determination, as provided for in this subdivision, shall be
filed in the office of the board and be available for public inspection.
Such a waiver may be granted and filed or such a written determination
may be filed only where the board of elections determines, with regard
to each specific polling place for which a waiver is sought or a written
determination is to be filed, (1) that an alternative accessible polling
place is not reasonably available in the election district or a
contiguous election district and that specific efforts were undertaken
in cooperation with persons with disabilities who have contacted the
legislative body of the city or town which requested such waiver or the
board of elections which filed such written determination to locate such
an alternative accessible polling place and such efforts are listed in
the petition or written determination, (2) that compliance with the
polling place accessibility requirements of this subdivision would
require that unreasonable expenses be incurred and paid, pursuant to
section 4-136 of this article and that specific information regarding
expenses for compliance is listed in the petition or written
determination, and (3) that substantial efforts will be undertaken in
cooperation with persons with disabilities who have contacted the
08/30/2012 – ACCESSIBILITY MFG OUT OF BIZ!!!!!
Syracuse Elevator is a fully authorized Garaventa Dealer and is able to assist you with any projects that involved a Thyssen product: 

Here a link to a recently published article from Garaventa Lift

http://www.bizjournals.com/kansascity/blog/morning_call/2012/08/thyssenkrupp-access-will-close-us.html
08/30/2012 – TKA LAYS OF
ThyssenKrupp Access will close U.S. operations
Kansas City Business Journal
Date: Friday, August 24, 2012, 8:05am CDT


Home elevator maker ThyssenKrupp Access will shut down its U.S. operations, including its headquarters and manufacturing operations in Grandview, the Kansas City Business Journal reports.

ThyssenKrupp Access said it will begin lying off its 230 employees — including 58 in Grandview — in late October. Layoffs could be completed by the end of the year.

The operation dates to 1947, when a local entrepreneur developed the Stair-Glide Stair Lift. Marion Laboratories bought the operation before selling it to a management-led group. ThyssenKrupp bought the company in 1999.
Related links:
Grandview
08/29/2012 – WE WILL SUPPORT YOU
Thyssen Krupp Access is closing. 

With this news of a Giant in the Biz throwing in the towel, many home builders and owners of this equipment (stair lifts too!!) will be hard pressed to get their equipment fixed. Syracuse Elevator has the ability to fix and retro fit lots of this equipment.

With a great stock of parts and knowledgeable service people we will continue to support you. 

However if your equipment is older you may want to budget and plan for a replacement as much of the wiring diagrams and parts will shortly become obsolete.

Syracuse Elevator is here for you. 

Since 1999 providing great equipment at Great prices with great staff and service.

Call Syracuse Elevator should you need to be bailed out.
Here is the official statement >>>>

ThyssenKrupp Access recently announced changes to its U.S. operations—changes that will fundamentally impact your role as a ThyssenKrupp Access dealer. Starting August
22, 2012, manufacturing of ThyssenKrupp Access products will be phased out during the next 60–90 days, with administration and other corporate services concluding by the end
of 2012. These changes were brought about by a combination of slow economy, sluggish sales,
and lingering manufacturing issues.
Understandably, the question likely on your mind is: What will this mean for my business? We've worked to develop a strategy to assist our dealers with the phase-out and will keep you informed of any developments over the coming months. What the changes mean for you immediately include the following:
1. ThyssenKrupp Access will continue to manufacture and deliver on current and
backlogged orders for the next several months.
2. We strongly urge you to get your final orders in by August 23, 2012 so that we
may manage our backlog and have adequate staffing accordingly.
3. Understandably lead times may fluctuate due to this difficult announcement.
4. We will continue to honor warranty and parts commitments associated with all
accepted orders and are currently identifying the best solution to administer this
going forward.
5. As it becomes available, additional information will come directly from
ThyssenKrupp Access or through your Regional Sales Manager, including
instructions regarding payment for current and backlogged orders and new
accepted orders and your discontinuation of use of ThyssenKrupp Access's sales
literature and promotional materials.
Finally, let us thank you for your efforts in representing the ThyssenKrupp Access brand.
While the closure is unfortunate, indeed, we cannot overstate the value you and other
dealers brought—and continue to bring—to our company and your customers.
08/12/2012 – UP AND DOWN
We are pleased to know that some Accessibility contractors really do care!!! 

Thank you Doug and Team for making us all look Great!!! 

http://www.handi-lift.com/projects/hamilton-grange-national-memorial/
06/13/2012 – PREVIOUSLY OWNED ACCESSIBILITY EQUIPMENT
So many people today are on tight budgets. Many folks with disabilities earn so much less than the general public and need more equipment to help them just in and out of the house. Sure sometimes grant money becomes available or family members pitch in occasionally. 
Your local lift contractor many times will have used equipment that they will install at a fraction of the cost and still be code compliant and will come with a decent warranty. Do not be afraid to call and ask about used equipment that may be available.

Caution: Call your LOCAL accessibility dealer first before you buy something from E bay or Graig's list. 
Too many horror stories. How about the one that had the mouse nest in the cushion, or the guy who drove to Cleveland and found out it could not be modified to fit once he brought it back to NY? Or the lady who got the great deal on a lift that has been out of production for twenty years!! Or the lift that the owner installed himself to only find out it was not code compliant and the town had him UN-install it. Too many more stories.

Call your Local professionals!!! Previously installed equipment can be the difference between moving and staying in YOUR home. We will take you to the next level of living safely and wisely!!
06/03/2012 – WHATS NEW?
Syracuse Elevator now has new exciting products for your home!!!

Check out the X3R inclined platform lift for your home. New platform sizes and custom sizes at no charge!!! We will make it fit in your staircase.

The new Elveron MR is the quietest geared machine elevator for the home on the market, Standard features of built in phones, automatic gates and real wood veneers, and mechanical gate hanging (eliminates those old style pinching gates and the rubber hinged gate), all combine for the latest and smoothest way to get you to the next level of living!!! Call today 

New Customer list!!

These buildings are now accessible please visit them now that they have invited all to join them!!

Copenhagen school
Susquehanna valley schools
Riverside drive, Clayton
Clayton opera house
The Marcellus historical museum
The Cooper Beech apartments.
The Carthage free Library
The Mexico free library
Downville school
Calvary gospel Church

Thank you all for making our world more accessible. Surely at this rate one building at a time we will get there!!
06/03/2012 – COMMUNITY SUPPORT
So the economy is slow and trickling back ever so slightly. The jobs we have today are driven by small business. These are all local Business that sell locally and nationally. The days of Gold watch retirement are over from the huge factories. The days of a lifelong pension in private business is over. The days of Lifelong health care again are over after retirement. 

These small business and their employees actually are the one who keep are charitable organization running. The churches, the Scouts the VFW, kids sports. You name it is supported by business. If you support these local firms you indirectly support the local communities. 

Syracuse Elevator supports the Boys scouts of America through donations of equipment and personnel.

Support you're Local Firms, Buy from the local guy!!