Church Stair Lift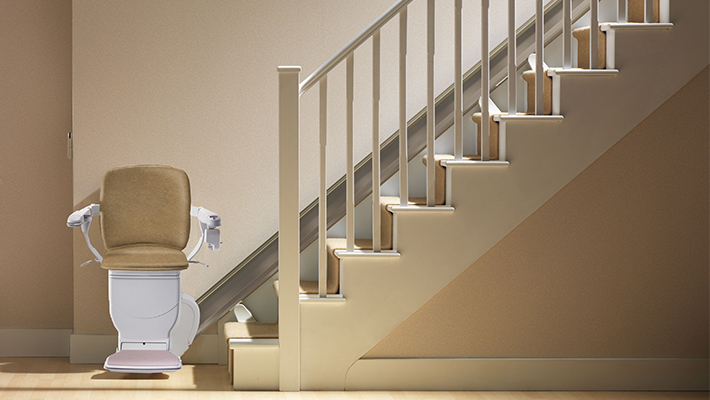 Stair lifts are cost efficient, safe and good looking. Your place of worship will be even more welcoming with greater accessibility afforded by stair lift installation. Syracuse Elevator stair lifts can accommodate virtually all stairways, and can be installed completely in just hours, allowing prompt usability. You can choose an installation appointment in the evening or afternoon, and installation lasts only three hours, so your services won't be interrupted. We can make your church more handicap accessible, creating a more welcome, inclusive place of worship that is conscious of all persons' individual needs. Increasing your church's accessibility will allow higher church attendance.
---
A Great Fit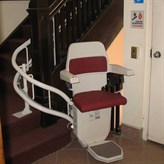 Our stair lift options include a large selection of stair lift brands and styles, allowing you to make an informed decision on which stair lift will most benefit your church. Our knowledgeable professionals can provide a free evaluation and quote so you can optimize accessibility without excessive costs.
---
Welcoming All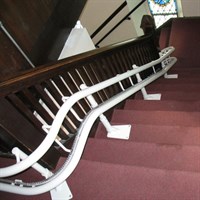 Your congregates will be grateful for your stair lift.  A stair lift makes your place of worship more accommodating, welcoming and comfortable for all. Lacking proper accessibility equipment could severely hurt your church attendance, causing a less unified, less devout congregation. Installing a stair lift in you care for each individual churchgoer's needs, and that you don't discriminate on the basis of physical ability.  Also, a stair lift prevents injury on your property by providing equal access to all people regardless of their mobility needs.
---
Expert Installation
Syracuse Elevator stair lift products are attached to a rail that is expertly secured to your stairs. All Syracuse Elevator stair lifts are fastened to stairs, not a wall. This allows for quality functionality and improved structural integrity. It's vital that your stair lift is properly installed. Proper installation ensures dependability. Syracuse Elevator professionals will install your stair lift correctly, assuring reliability and low maintenance.
---
When The Power's Out, Your Lift is On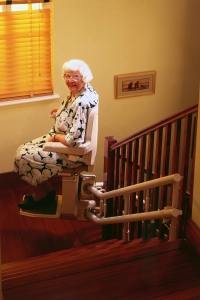 In a time of emergency or severe weather, our stair lifts guarantee everyone will be safe and accounted for. Our stair lifts are operational even during power outages. When unexpected circumstances arise, Syracuse Elevator allows you to worry about one less thing.
---
Sharing The Stairs
Syracuse Elevator stair lifts are compact and convenient so your stairs can be shared regardless of if your stair lift is being used. Our stair lifts are quiet, helping maintain the calm, tranquil environment you're your church creates. When not in use, stair lifts can be folded inward to maximize space capacity.
---
Syracuse Elevator Premium Professionalism
Our courteous, experienced staff can help meet your church's accessibility needs.
Contact us today for a free quote, or browse our curved and straight stair lift products to open doors for more believers.
---
Want a Lift? Fill out the form below